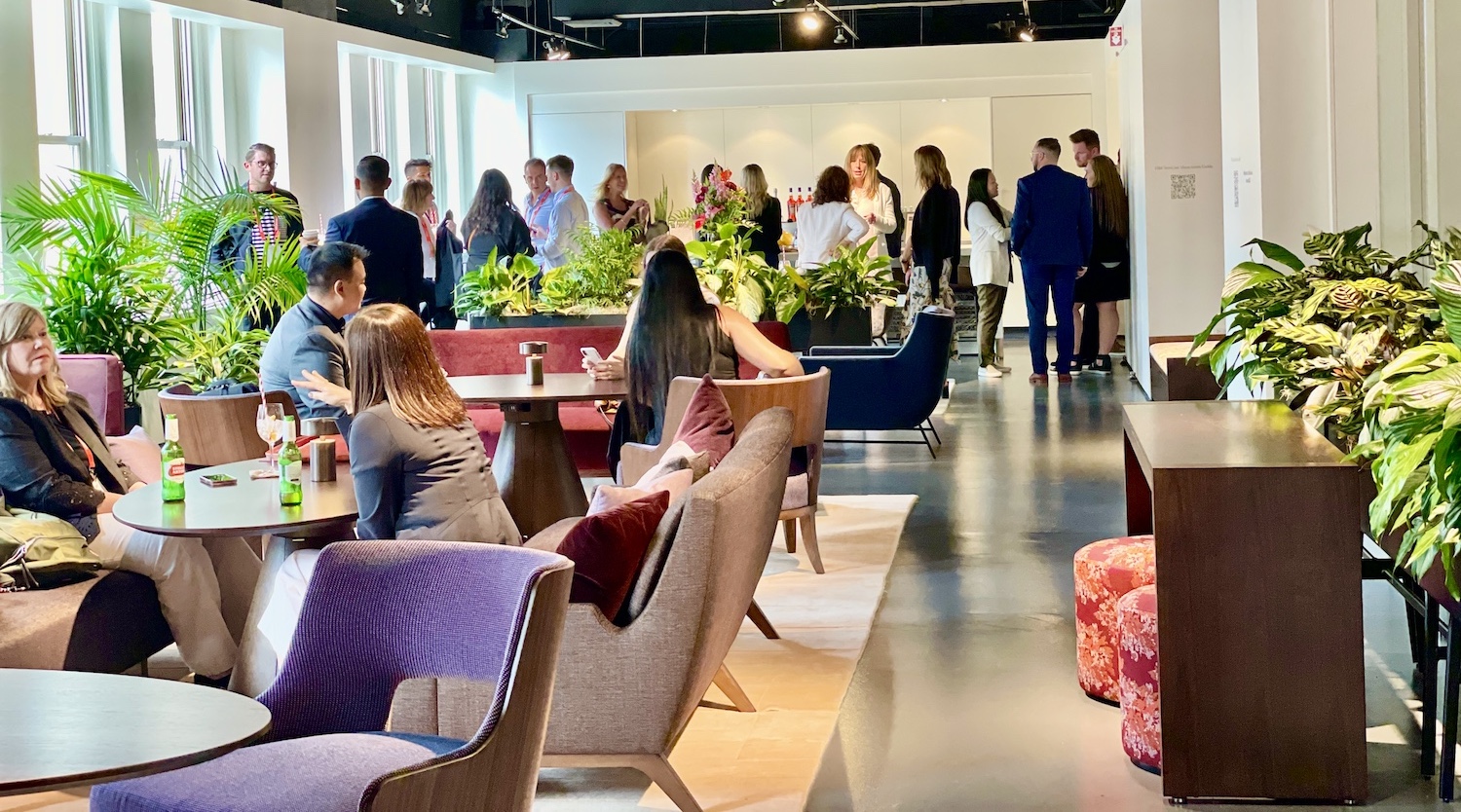 Living Biophilic Interior Design at NeoCon 2022
One of the biggest ways we bring living biophilic interior design to our clients is through special events and conferences. NeoCon is one of the leading annual showcases of commercial interior designers in the world and we are lucky enough for it to take place in the Merchandise Mart. And every year, we help our clients bring their showcases to life with our plants. Here's some of our favorite installations from NeoCon 2022!
What is Biophilic Interior Design?
Biophilic interior design comes from E. O. Wilson's biophilia hypothesis, in which he introduces the idea that humans have a natural affinity for nature and other living things including plants. The goal of biophilic interior design is to fulfill our innate human desires to be connected with nature, which in turn helps our mental health, how we perform in the workspace, our moods, and even our physical health, among other benefits.
Many of our clients already use elements of biophilia in their products and showrooms; wood, natural light, and natural shapes are all biophilic design elements. When living elements, such as plants, are added, the benefits of the biophilic design are increased!
KI Furniture
Our first stop is the KI Furniture showroom! First, we love showing off this gorgeous pothos wall. Instead of the usual green wall installation, these wires allow the pothos to climb up rather than trail down, therefore requiring less pruning. This type of installation is designed to last several years to let the pothos to grow to its full potential. And as this wall grows, it becomes a lush living biophilic space divider! Next to the pothos wall is a potted Dracaena Marginata, a favorite low-light office plant for many of our clients.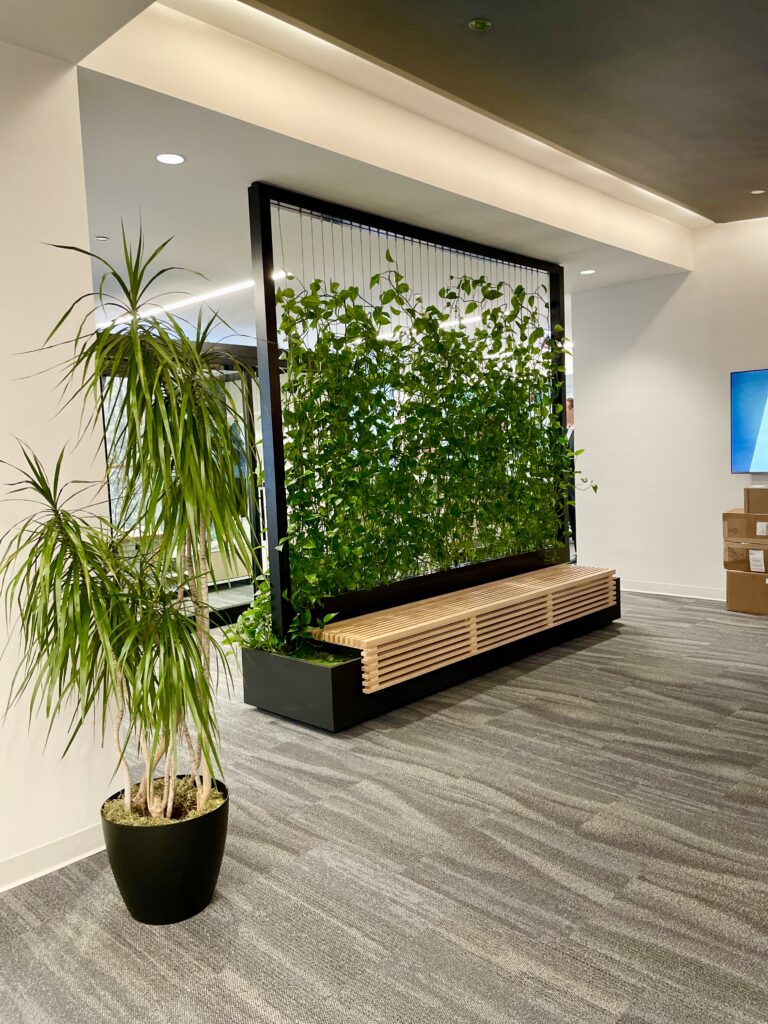 Another low-light indoor plant is the Mass Cane, which we've placed in KI Furniture's showroom as well. Mass Canes are perfect plants for smaller spaces because despite their height, they are not very wide. With a small and darker area to decorate, we knew the Mass Cane would be the ideal plant here.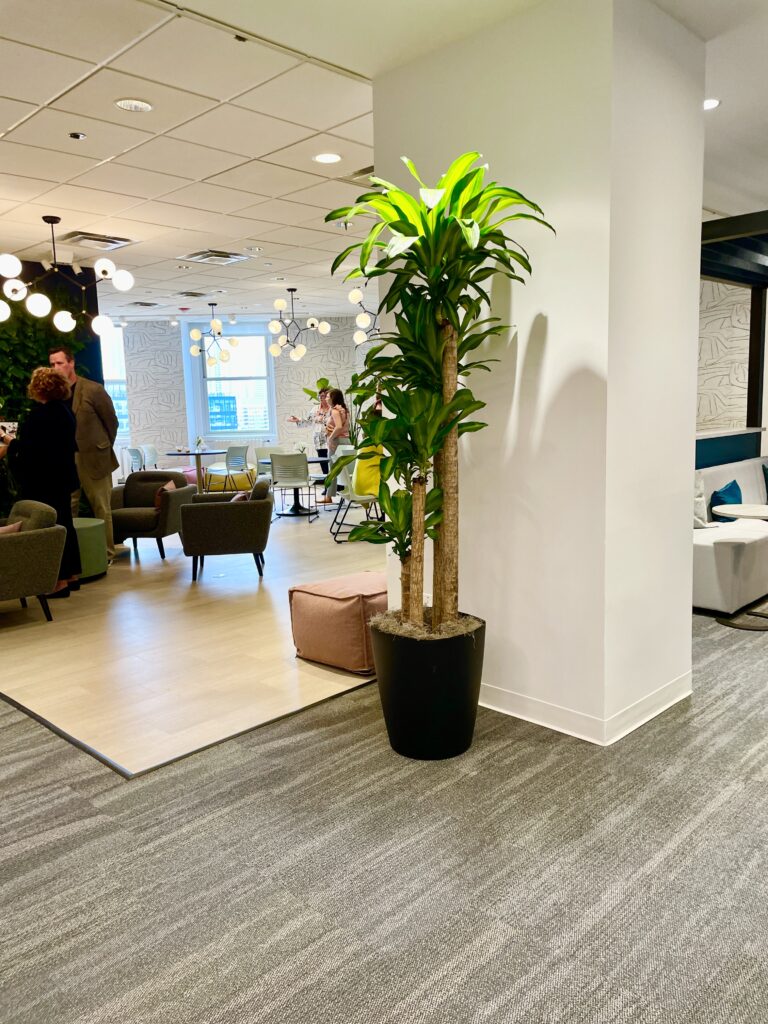 Haworth — JANUS Et Cie
Our client JANUS Et Cie, a Haworth brand, had this spectacular exhibit in the main lobby at the Merchandise Mart. With these lovely outdoor furniture pieces, we thought we ought to add some living biophilic elements! Taking the background image into account, we brought the palms from 2D to 3D with the inclusion of a Kentia Palm, which helped unify the image and the real-life showcase. In this photo, we see a Spathiphyllum (also known as a Peace Lily), Boston Ferns, a Schefflera (or Umbrella Plant), and a Ficus Lyrata (the beloved Fiddle Leaf Fig).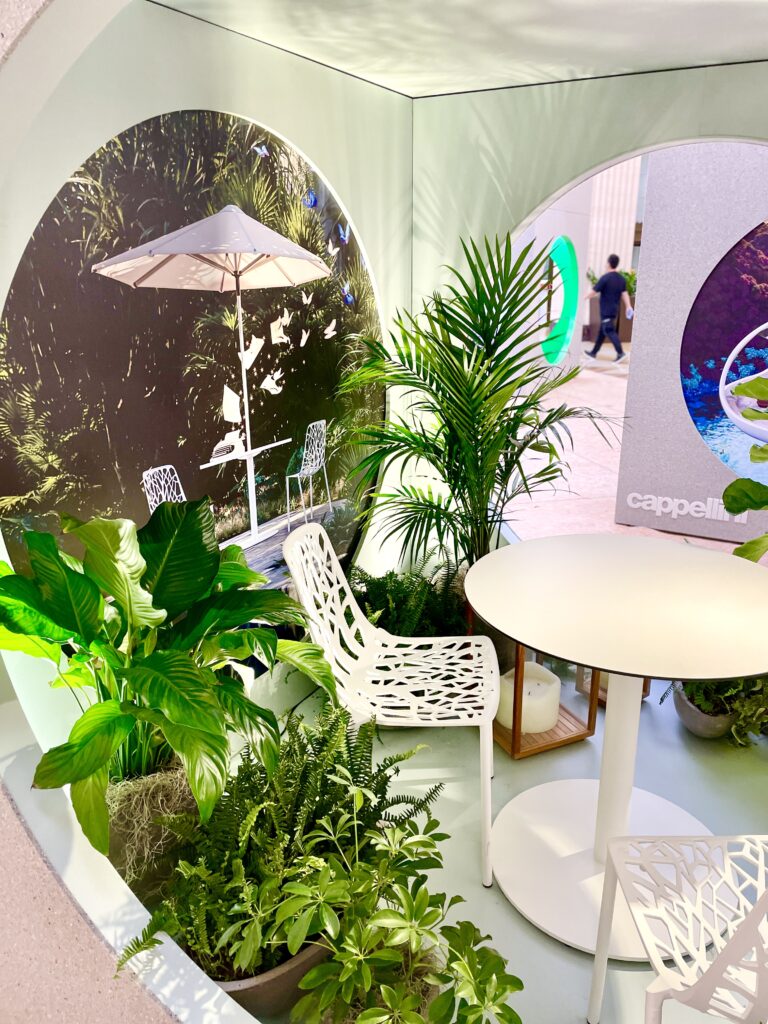 Since this box was at eye level, we wanted to make sure that our plant were eye-catching, but did not take away from JANUS Et Cie's furniture. The lighting in this showcase caught the leaves just perfectly to draw in spectators, but then the table and chairs became the main event.
HBF
Here at the HBF showroom entrance, we were able to highlight some more of our low-light beauties! This area was far away from windows, we had to choose plants that could survive an artificial lighting environment. We included a Mass Cane, a Sansevieria, a ZZ Plant, a Lemon-Lime Dracaena, and a Chicken Gizzard Aralia (thankfully this plant has gizzards in name only).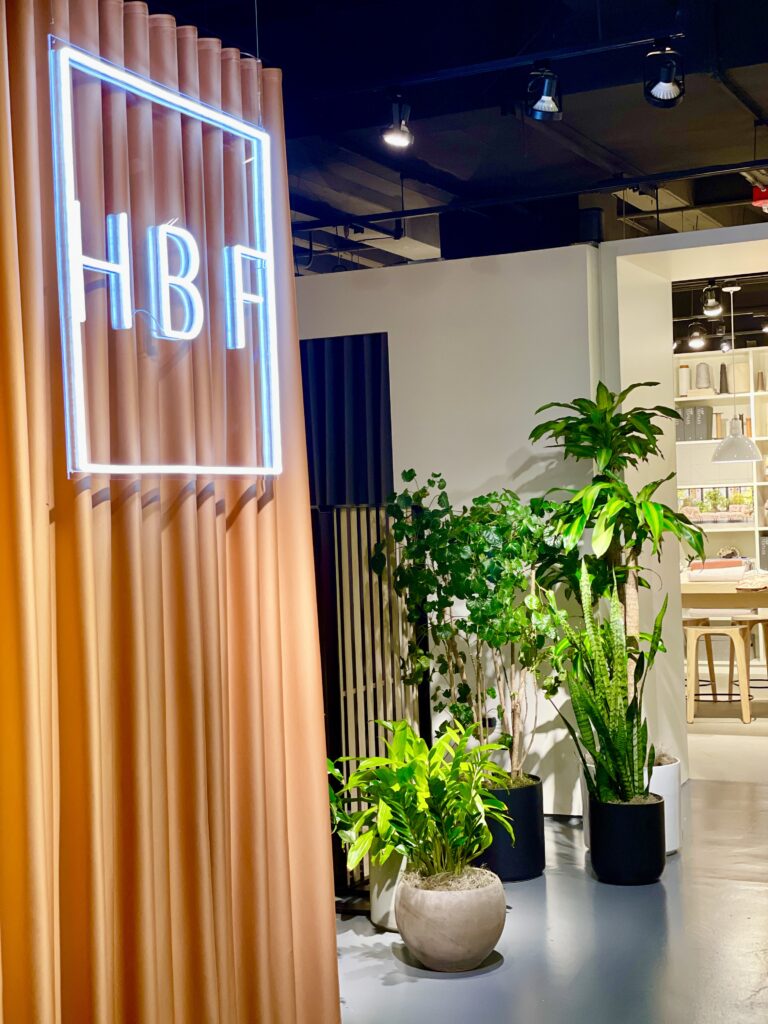 As you head to the back of the showroom more light entered the space, which allowed us to place plants that prefer brighter light. Here, we have some Kentia Palms, Dracaenas, Calatheas, Philodendrons, and a lovely floral arrangement to help this community area come alive! We love this area as our plants help not only define different areas of the showroom but add some complementary colors to the space.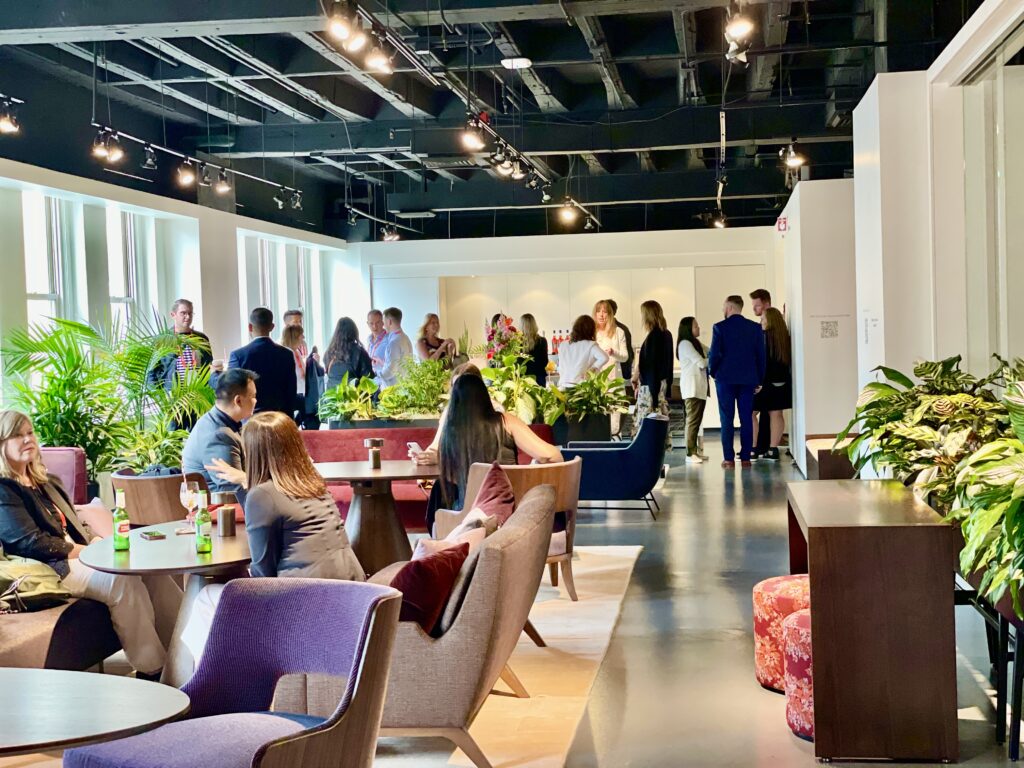 Tuohy
This beautiful purple accent wall at Tuohy provided a perfect spot for the regal Bird of Paradise plants and helped create an inviting feeling for the attendees at NeoCon. Normally Birds of Paradise need substantial natural light, but with sufficient lighting in the showroom we could ensure that our plants would stay healthy and happy for the duration of the show!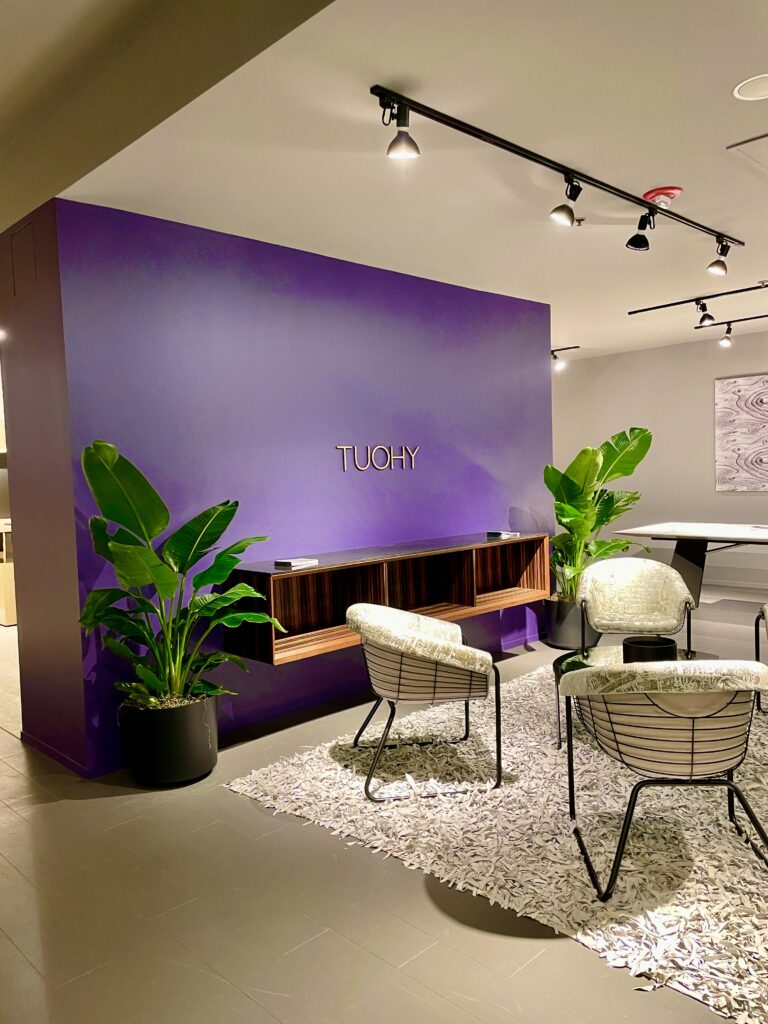 Global Furniture
Global Furniture's showroom features many neutral and earthy colors and tones, making this a great opportunity to introduce living biophilic design elements! In this design, we went with a couple of palms and a Dracaena, all of which love lower-light conditions. These lovely plants were able to help make the showroom pop to life!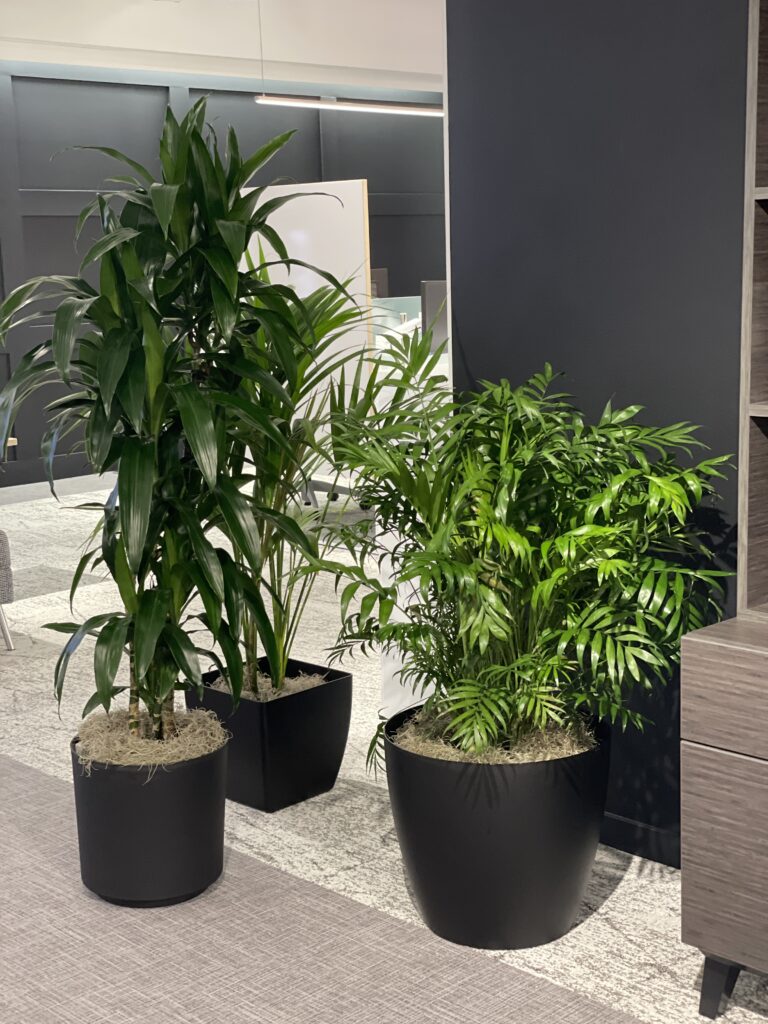 We also can't resist a good Bird's Nest Fern… or five. This is a great example of biophilic interior design as it incorporates a classic biophilic design element (wood) and living elements! The combination of these two elements are designed to evoke calmness and closeness to nature, which is an increased desire among office workers.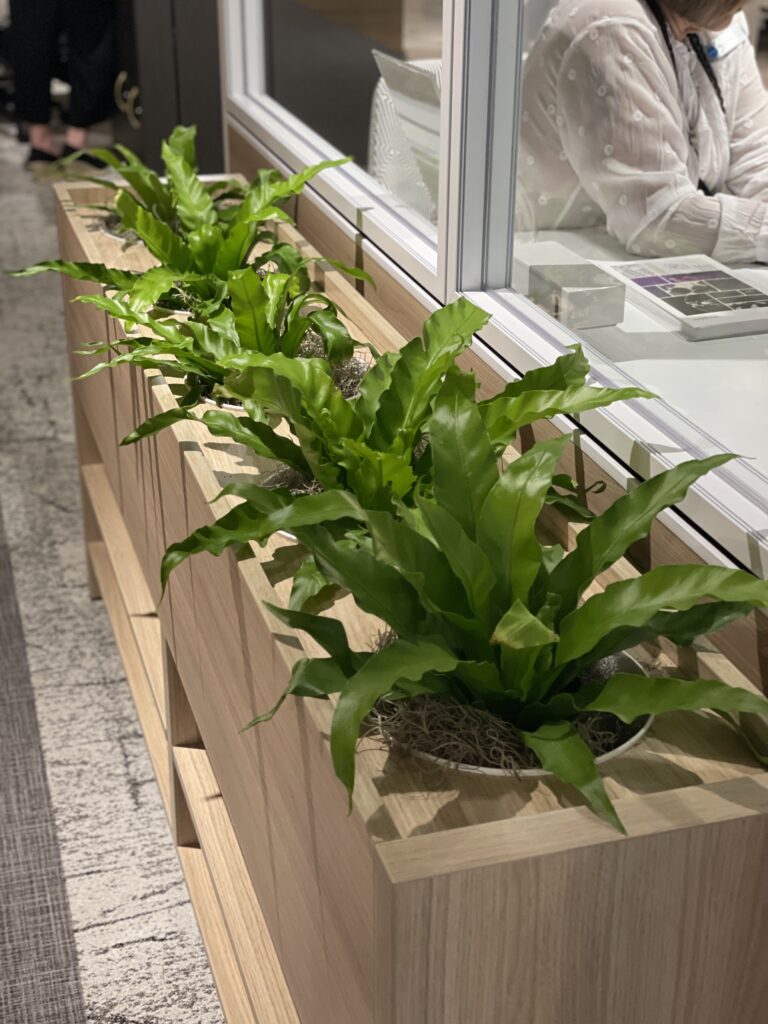 Biophilic Interior Design for Events
Plants are important and positively impact the people and environment around them. Having living biophilic elements at work helps increase creativity and reduces stress, among many other benefits of office plants. They remove common toxins from the air, and the best part is you don't have to manage the plants and keep them alive! Khloros does all of the maintenance and care for you so you can focus on having a successful event. If our work at these showrooms inspired you to introduce living biophilic interior design, let us know. We want to help create a welcoming feeling to your showroom or exhibit. To get started, click here!
Biophilic Interior Design for Architects & Designers
When you are creating a space for people to relax, work, or both, we hope that you have thought about incorporating living biophilic interior design! We want to help you design a truly biophilic space and make it easy for you to focus on other areas of your design. All we need to do is have a budget and a walkthrough and we will begin to pick the plants that will thrive the best with your environment. We take into account lighting, air flow, foot traffic, overall style, and your preferences! Take a look at our plant catalog or our Instagram if you want to source some additional ideas! Keep in mind that if you don't see a desired plant on here, we will do our best to accommodate plant requests. Tell us your goals are and let's get started!