Commercial Space Green Walls
One way to bring nature into your space is through green walls. These vertical gardens are a visually dramatic and unique way to incorporate plants into an office or commercial space. Khloros has extensive experience in designing and installing these gorgeous features, and many of our clients love the impact they can make while taking up minimal space. 
Green walls can be installed in a variety of ways to meet the differing needs of a client. Freestanding green walls do not make a permanent impact on their space and can be moved as needed while adding an element of interest to a room. These can be a great option for a company that has a shorter-term lease, but still is looking to provide a high-end experience to their guests. Permanent green walls, on the other hand, can be built into a space, and irrigation systems are available that require even less maintenance.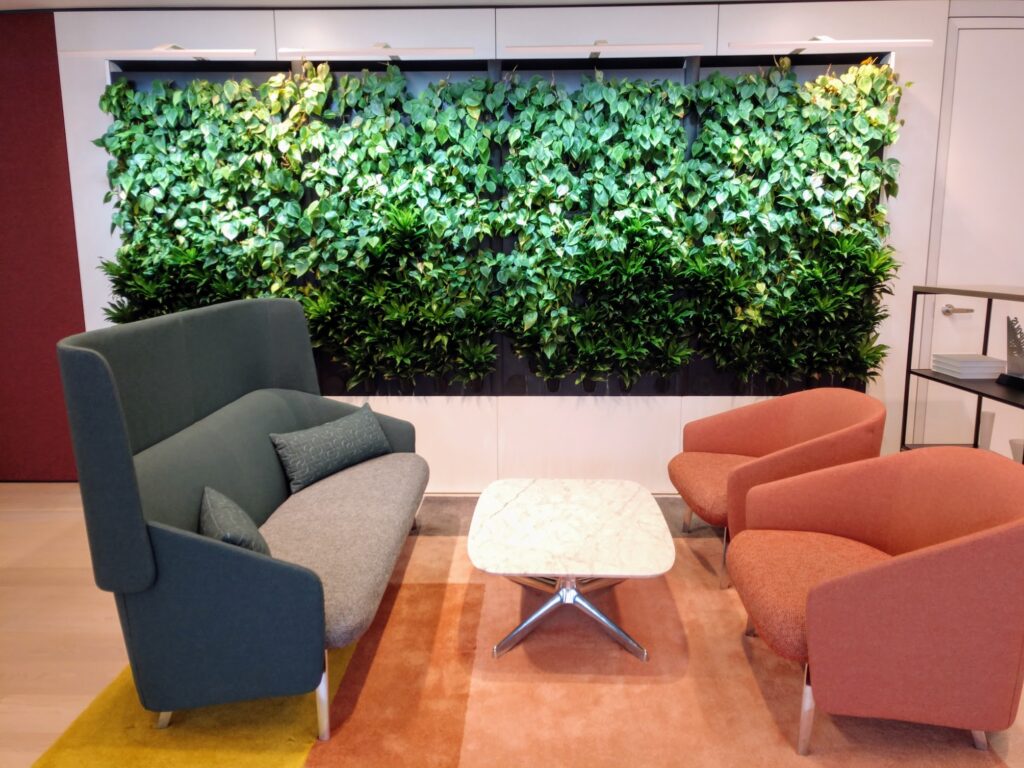 A living green wall always makes a great conversation starter
Green Wall Customization
Many of our clients appreciate the branding opportunities that are available when they choose to install a green wall. We regularly design green walls to include client logos, which is just one more way to use plants to elevate your business. Khloros works with our clients to incorporate their brand's logo into an elegant plant design that can be used to highlight your company's commitment to green endeavors while also creating a unique feature in your space.
Green Wall Maintenance
Green walls with built-in irrigation systems will need to be replenished with water about every 2 weeks, and regular pruning and maintenance is required by our team so that your plants always look their best! And like any piece of large furniture or equipment it needs dusting or cleaning occasionally, so we take care of that too.
Preserved Green Walls
For businesses where living green walls would not be a good fit due to the atmosphere and conditions in the space, there are also options that include both preserved botanicals, such as moss walls, or lifelike imitations and permanent replica botanicals. While replica walls do not provide all the benefits of biophilic design that office plants can contribute to a space, such as air purity, they still add a natural element to an office that can give it a more serene feeling. These walls also are low maintenance, which can make them a more cost-effective option for certain businesses. 
So what do you think?
Contact us for a free quote!
Click Here