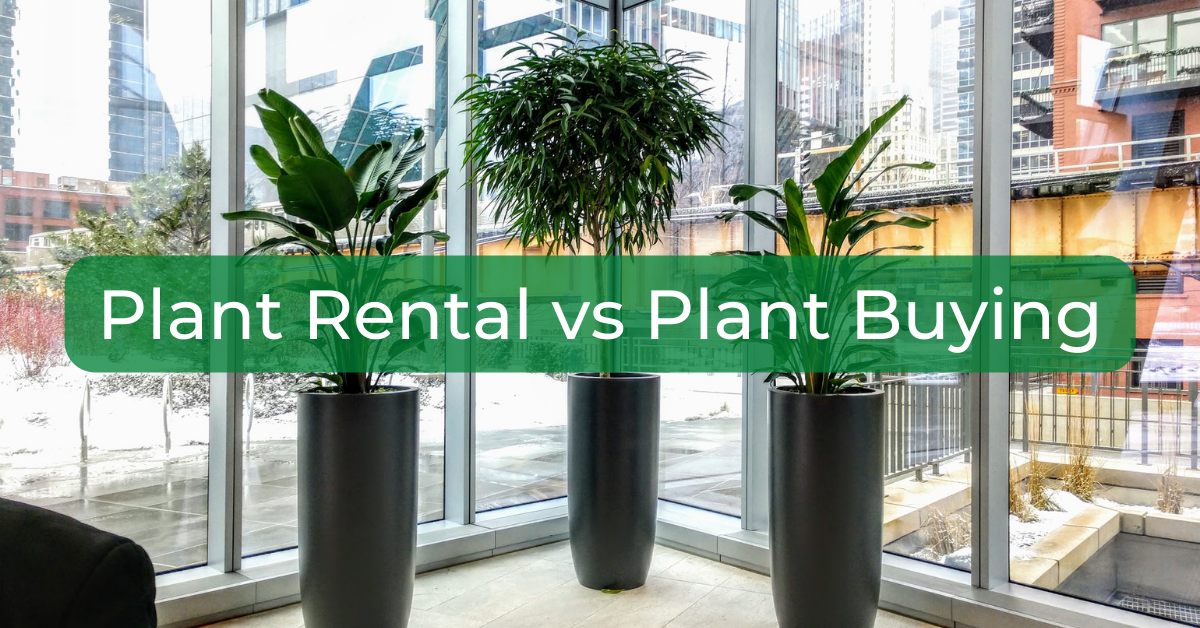 Plant Rental vs Plant Buying
To buy or not to buy? That is the question that a lot of people have when it comes to incorporating plants into their offices. Should you buy plants, or choose the plant rental route for corporate offices? The answer ultimately comes down to your preference. Renting and buying plants work for different people depending on what they are looking for in terms of flexibility. No matter which option you choose, let us take care of your plants! 
Benefits of Plant Rentals
Worried about commitment? A rental plant is a perfect way to figure out what works for your space by allowing you to swap out plants easily until you find your desired look. Certain environments are more fit for low light plants. These low maintenance plants can survive without direct sunlight, which makes them suitable for indoor offices. When getting rental plants, Khloros offers healthy plants (free of pests and disease) while also offering to do all the work necessary to keep them looking healthy. We take care of all the hassle. Whether it is knowing when to trim plants or when to water plants, we create and execute a regular maintenance schedule for you!  
Benefits of Buying Plants
Owning a plant is for the people who have a pretty good idea of what kind of plant they are looking for. The benefit of choosing the option of buying a plant rather than plant leasing is that you can choose whatever you want. Not to mention, the plant is completely yours! Best of all, Khloros still maintains your plant! You get to enjoy your own plant while we take care of it the same way as if it were a rental plant. You get the same services of a rental plant (watering, trimming, etc.) with the extra benefit of the plant being your own.  
Some additional things to think about, owning a plant could be a bit more costly. There is the potential of unknowingly buying an unhealthy plant from a big box retailer. In the event of this, or in general, you might want a replacement or change your plant. You will, however, have to take on those costs. Moreover, if you prefer to buy a plant and not use our services at Khloros, you will have the responsibility of maintaining your plant.  
Buying or Renting Containers
When considering whether to buy or rent containers, you should keep in mind what is going to suit you best. If you are buying a container, that container is yours forever. You can put your bought plant in it, but it might not be best if you think you might want to change plants in the future. By renting containers, we will change the containers to match/compliment your plant if you change your plant size or decide to redo your office. We also take care of the containers' installation, removal, etc. 
Extra Services from
Khloros
Aside from our maintenance schedules, we also offer a variety of services and consultations. Khloros does moss wall and green wall installations for corporate spaces designed and tailored for our clients. Our catalog of blooming plants and fresh flowers is very useful in aiding your search for the perfect plants. We also do amazing holiday décor! Christmas trees, wreathes, menorahs, you name it. Contact us to bring your dream office space to life.